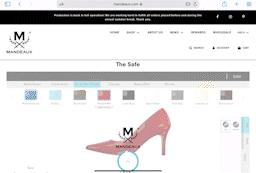 You spoke, and we listened. There was a massive outcry from the Mandeaux community about customizing shoes without back-and-forth with one of our incredible customer service representatives (they really are fantastic). I completely get it! I wouldn't want to talk to anyone either if I felt comfortable using the design tool on my own. So, we decided to make the design tool available for any of our Mandeaux family to use. Now, you can design your own Mandeaux high heels on our site!
Fellas, don't worry. This feature will be coming soon to the men's models as well. It was just much simpler to push it out for the women first since there are only a couple of styles available at the moment.
We want you to really love your Mandeaux shoes. We understand that everyone has their own unique style. You may like the style of the shoes we have released but want a different colorway or material. That's always been possible, but now the power is entirely in your hands. Just enter The Safe by clicking one of the customization links and begin selecting the colors and materials that suit you.
Remember, we're just getting started. New styles, new materials, including vegan options, and exclusive fabrics and leathers are in the future. Thank you so much for your continued love and support!
-Aaron