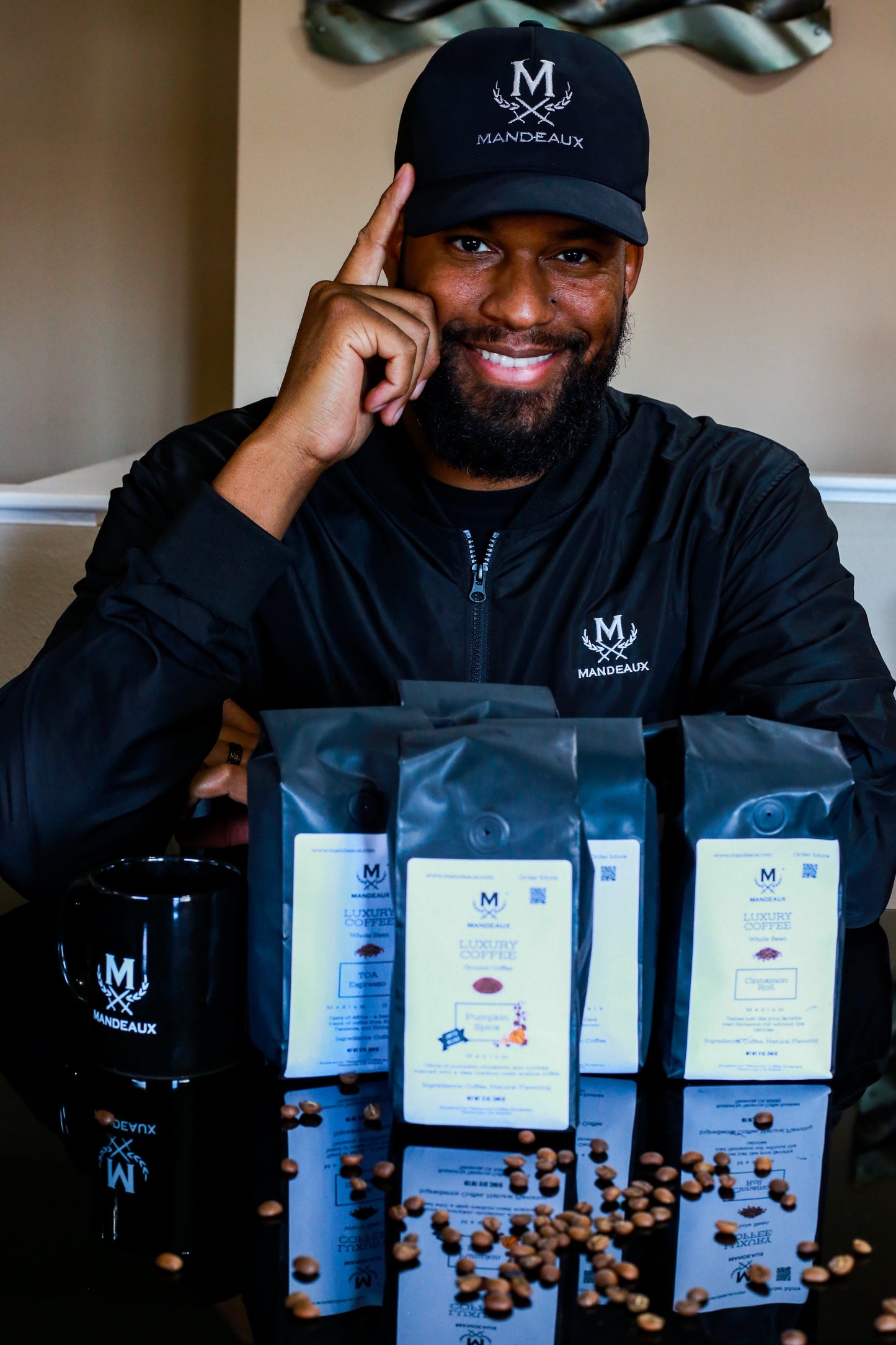 I know what you're going to say. "Mandeaux sells shoes. Why coffee?"
Good question. Super simple answer. Our Mandeaux family is primarily made up of socially conscious high-performing business professionals. Guess what most of them drink? Coffee! The decision to offer our own coffee wasn't an easy one. Especially when there are companies that have been around for decades that we simply can't compete with.
I'll be honest, I didn't know the first thing about coffee 2 years ago when this journey started. Anyone that knows me, knows I completely immerse myself in topics I'm interested in. I spent hours and hours learning about coffee so my Mandeaux family doesn't have to. My coffee journey reminds me of my steak journey. I'm ashamed to say it, but I was once the guy that ordered his steak well done! I know, I know. But I learned better, and I'm proud to say I'm a medium rare guy now.
Many people are fans of Starbucks "coffee" that's drowned in creams and sugars, and I'm here to respectfully ask you to come along on a journey with us. We searched all over for the best coffee beans for our Mandeaux family, and we found them. All our coffee is specialty grade. The Specialty Coffee Association of America defines specialty coffee as any coffee that receives a score of at least an 80 on a 100 point scale. Speciality coffees are usually grown at higher elevations and they're the best this world has to offer.
However, there's a very important disclaimer here. Just because you have specialty grade coffee, doesn't mean you can't ruin it by your brewing method. There are tons of ways to brew coffee. The most common of them are your standard drip coffee maker, and the dreaded Keurig. I say "dreaded" because while it's a super convenient way to make your coffee, the amount of waste they create on a daily basis is mind numbing. At Mandeaux we are extremely conscious about our ability to minimize waste.
Speaking of waste, did you know that one of the reasons we put forth so much effort in making high quality shoes is to maximize the length of time our shoes have until they see a junk yard? We figured that if we can make shoes well enough to keep being worn, or even out of materials that can be repurposed, then we've done a small part in minimizing waste. I personally think it's a great idea, and hope you do too.
Ok, back to the coffee. While there are certainly more artisanal ways to brew coffee like the Pour Over method using the V60 or Chemex, the French Press is our weapon of choice. The reasons are simple. It's pretty easy to brew a cup, it's inexpensive, produces no waste (no paper filters), and it extracts the best flavor and oils in my opinion. The brand I personally use is Bodum. You can get your own for less than $20 here on Amazon.
Let's take a look at the 6 coffees we offer currently. For those that enjoy that full bodied coffee flavor, we have the House Espresso. As an ode to our African heritage, I wanted to also have an Espresso made from beans grown and cultivated in Africa. This is how the Taste of Africa (TOA) Espresso came to be. The beans are sourced from local farms in Kenya, Tanzania, and Ethiopia to make this incredibly tasty blend.
Our Whiskey Kissed Coffee is a single origin coffee that is aged 30 days in a bourbon barrel for a perfect combination of premium coffee and that oaky flavor from the barrel. Blue Indo is our single origin coffee from Bali, Indonesia. This coffee is grown organically and handpicked. Lastly, our flavored coffees are Cinnamon Roll and Pumpkin Spice. Once the coffee is roasted, natural flavoring oils are added to the beans while they're still warm. Our flavored coffees are a great way to get delicious flavor without the added calories.
I didn't even get to touch on the health benefits coffee has! I'll save that for another day. I hope you join us on our coffee journey. We're just getting started. We're constantly looking at new options to offer our Mandeaux family, whether that be new materials for shoes, completely new products, or coffee flavors. Before I go, I want you to also understand that the cost of coffee has gone up worldwide. We anticipated this as we launched our coffee collection, and built the inflation into our initial price so we didn't have to increase our prices like everyone else.
What you'll likely see from our coffee competitors is their prices will increase if they haven't already. Also take into consideration the total price with shipping and taxes included when comparing our coffee to another brand. We're not here to offer coffee at the lowest price around. We aren't and will never be a discount brand. Our goal is to provide the highest quality products for the most reasonable price to our family and friends.
As always, we're here for any questions, concerns, or suggestions to make Mandeaux® a better experience for you.