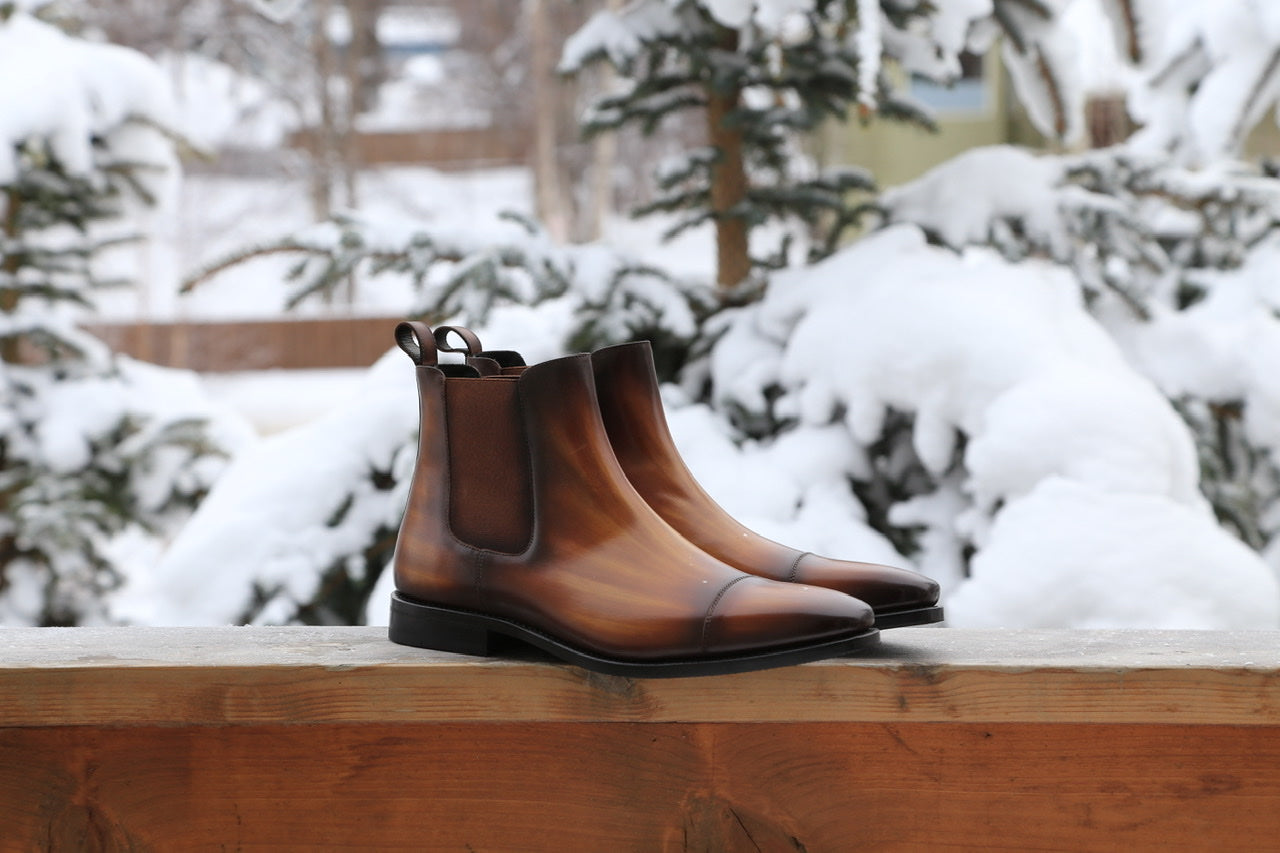 Alaska has never been known for its high fashion. In fact, most Alaskans prefer function over form because of the harsh weather conditions. While that's certainly understandable, there are many Alaskans that have an appreciation for fashion and take pride in their style.
5 years ago in Anchorage, Alaska if you wanted nice shoes you had a few options. Nordstrom, Stallone's, Men's Wearhouse, Shuzy Q, JC Penney, and the Walking Store. Nordstrom had the highest end shoes available in Alaska. Nordstrom's last day of business in Alaska was in September 2019. Mandeaux rose from those ashes the following month.
While Mandeaux operations are born and based in Anchorage, the internet has allowed Mandeaux to reach far parts of the globe. Most of Mandeaux business takes place in the Lower 48 and Europe. Since it's inception, Mandeaux has sold luxury dress shoes, boots, and women's heels in over 11 countries. 
When Alaskans want really nice shoes that are different than the standard offerings the other shoe stores offer, they turn to Mandeaux. Mandeaux has been trusted to make custom luxury shoes for special events, weddings, and teams around the world. Because Mandeaux shoes are made-to-order, and dress shoes and boots can be engraved, they are the clear choice when looking for high-end personalized footwear.
What kinds of shoes does Mandeaux offer? Take a look. This list is not exhaustive:
Oxfords
Brogues
Chelsea Boots
Low Top Trainers
Chukkas 
Balmorals
Moc Boots
Hiking Boots
Jodhpurs 
Split Toe Derbies
Derbies
Loafers
Monk Straps
Slippers
Belgian Loafers
Stiletto Heels 
Ballet Slippers
Booties
Any dress shoe or boot can be made with soft golf spikes!
All Mandeaux shoes are handcrafted in Spain by skilled Artisans. Most of the Artisans are legacy shoemakers. Mandeaux utilizes those generations of experience to make their exquisite footwear. While most shoes are made from high grade full grain boxcalf leather, other material options include kid suede, luxury suede, metallic leather, genuine alligator, genuine ostrich, genuine python, and even cordovan.
The next time you're in the market for high-end footwear, reach out to Mandeaux. You'll be happy you did. Mandeaux is a direct-to-consumer brand that doesn't have the high mark-up that retail brands have. This means you can get much more shoe for the cost. Mandeaux also offers split payments through the help of Zip (formerly Quadpay). The total cost is split into 4 payments to be paid every two weeks until the total is paid in full. There is no cost or impact on your credit to choose this option.
Mandeaux has the best shoes in Alaska. They are trusted by corporate executives, business owners, slope workers, and legislators. Contact Mandeaux today for custom inquiries.